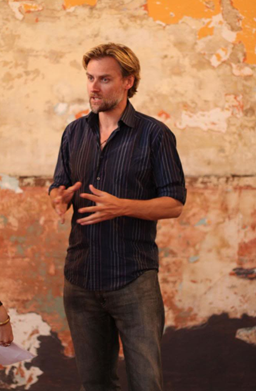 As actors, we often hear: 'Make bold and interesting choices!', 'Play the opposites', 'Go further' and 'Take a risk!'? But how is it done, exactly?
This six-week series of on-camera classes with top Australian acting teacher Paul Barry will teach you the exact mechanics of making choices; making them bold and making them interesting.
Most important, you will learn how to discover choices easily and execute them effortlessly.
"Paul is an amazing teacher, he's very engaging and easy to understand. He makes me feel comfortable while giving advice. He's very open-minded"
– Erica Beas
The course comprises 6 X 3hr weekly sessions and will include one free private one-on-one class (normally $100) during the term, as well as a free digital download of my upcoming acting e-book, 'Choices'. All work will be recorded on Canon 5dII, which can be transferred to an external drive and USB stick after class (which you will be required to bring to class each week). Class sizes are kept deliberately small and focus specifically on how to make unique, bold, and interesting choices, in both auditions and on the actual job on screen.
"I really loved the graph you gave us, and applied it to my audition the next day and got a call back!"
This celebrated 'hands-on' term of Acting 4 Camera classes, at The Actors Key West, will teach you how to find  choices that will make you stand out. On screen. In auditions. For the right reasons.
To ATTEND these ongoing classes, EXPRESS INTEREST, or simply REQUEST TO KNOW MORE, fill in the form below. 
"I could see the benefit of using this P.I.E. technique in such a short amount of time!"
– Esther Anderson
NOTE: These classes are for actors 16+ only. Please contact us separately to enquire about classes for anyone 15 or below.
–
"Aside from coaching award-winning Australian actors, Paul's current and former clients have taken lead and guest roles in US productions, such as The Pacific, Shameless, NCIS, The Vampire Diaries, Spartacus, Greek, Dollhouse, Hercules, The Cape, Legend of the Seeker, Revolution, Teen Wolf, Magic City and many more. Clients of Paul's are repped by: WME, CAA, UTA, Abrams Artists Agency, The Gersh Agency, ICM Partners, Paradigm, and managed by: United Management, Principal Entertainment, Brillstein Entertainment Partners, Untitled Management, having worked at: MGM, CBS, NBC, C20th Fox, Disney, Starz, MTV, ABC and more…."