DEMO REEL SCENE SHOOTS IN L.A. – BOOK ASAP FOR OUR NEXT ROUND FOR 2018!
We will shoot over 2-3 days (next offering: 

San Francisco in March, L.A. in February 2018

).
Send us your availabilities over that period ASAP so we can fit you into one of the shoot slots during this period.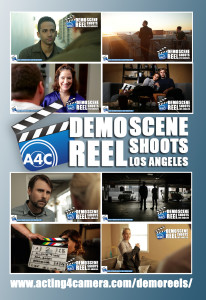 COST:
– $399 per 90 sec scene (like this)
– $699 for two 90 sec scenes, and
– $999 for THREE 90 sec scenes, cut together (like this)*
* This reel includes up to 20-30 secs of the best parts of each scene. Any pre-existing footage can be added for an additional fee. 
INCLUSIONS:
✓ Direction, rehearsals and coaching with acting coach and Backstage Expert, Paul Barry
✓ Locations included, scene partner casting available
✓ Professional crew, DP, sound, lights etc.
✓ Actors may split the cost of scenes.
UPGRADES:
✓ For custom-written scripts add $80 per scene required, but we'll need to know ASAP to get started on those. If you source or write your own Paul is happy to give feedback on what is good for you.
✓ Scene partners, let us know what you need.
✓ Additional material cut into a reel, ask for quote.
DON'T LEAVE IT UNTIL IT'S TOO LATE. THE TIME TO GET YOUR PROFESSIONAL REEL IS RIGHT NOW.
Email us HERE to make inquiries or to book immediately.